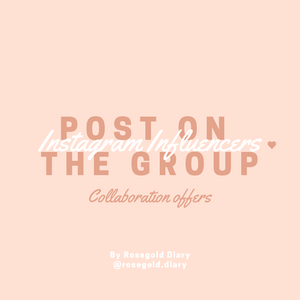 Partner with content creators (BRANDS)
Sale price Price $40.00 Regular price
If you're looking to expand your brand with the help of influencer marketing, you can now officially advertise on our Facebook group with over 50 000 micro-influencers and influencers from all around the world. This is your opportunity to find content creators to help you promote your brand.
BEFORE YOU PURCHASE : You will have to send us via email the content of the post you would like to create on the Facebook group. Your post will have to include the following information :
- The name of your brand
- Your brand's Instagram handle
- Your website
- The details of the collaboration (requirements from the influencer, what you offer in return, the payment you are offering if any, etc.) Please be as precise as possible
- The limit to apply and the date where the influencer should expect a response
- A photo of your product
EVERY OFFER NEEDS TO BE APPROVED VIA EMAIL BEFORE BEING POSTED.
Email to contact : contact@mikaelaamichelle.com
By purchasing this product, you will get :
- The opportunity to post your offer on the Facebook group once approved through email. You will be able to submit the post yourself on the Facebook group and it will be approved in the next few hours. The post will remain on the group for 30 days and the comments will remain activated for 7 days.
- Your post will remain in the "collaboration" topic of the group for 30 days so that the influencers can easily find your offer.
By purchasing this product you agree to :
- Only post real opportunities to the group
- Follow through with the collaborations (your post is not meant to simply be an advertisement)
- Work with us via email to create a post that both your company and ours are comfortable posting
Please note that we will not allow posts recruiting for network marketing or about companies using network marketing for their promotion. We will also not allow opportunities that require the content creators to buy a product/service in order to promote it. We also reserve the right to refuse any offer. If your post can't be allowed on the group because it doesn't fit our standards and you have already purchased the post, you will be reimbursed if purchased less than 30 days prior. We will not offer reimbursement once the post has been made on the Facebook group or the 30 days have passed. We also do not guarantee the success of your post or the number of applicants. Once the offer has been published, any edit made to it must also be submitted to us and approved before being made. Failure to indicate an edit to a post will lead your post to be deleted immediately.
Serious offers only. Please allow a few days for the posting process to be complete, as it will vary depending on if your post needs to be altered and we will need to approve your post on the group which we typically do once per 24h.